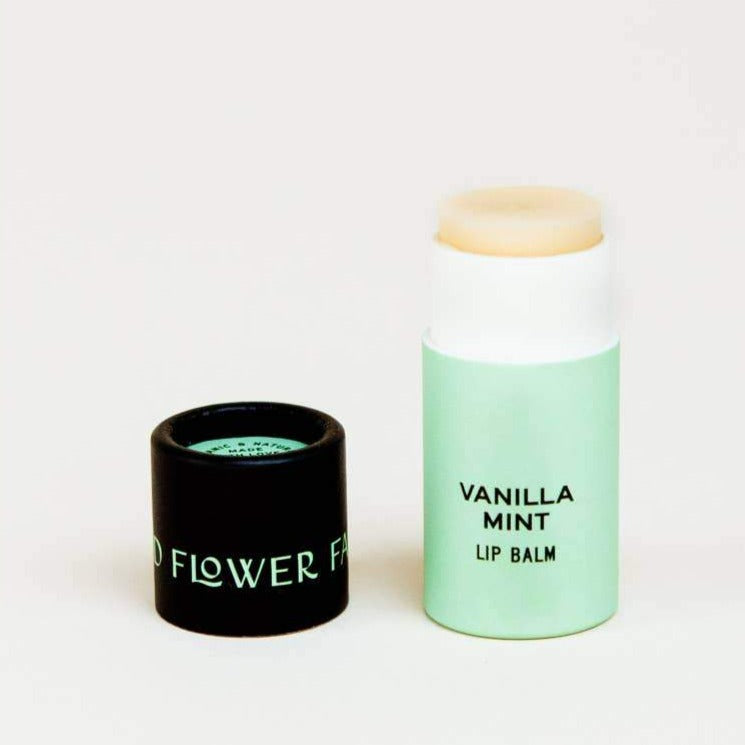 Good Flower Farm Lip Balm
Good Flower Farm Plastic Free Lip Balm provides deep moisture for dry lips with coconut oil, shea butter, and beeswax. Available in two nourishing, non-greasy formulas: Lavender Mint and Vanilla Mint.
Packaged in a 100% biodegradable cardboard tube. 
Comes in a 0.25 oz tube, providing 40% more product than the average lip balm size of 0.15 oz.
INGREDIENTS:

Vanilla Mint

: Shea butter, coconut oil, beeswax, peppermint essential oil, vanilla CO2, vitamin E oil 


Lavender Mint

: Shea butter, coconut oil, beeswax, lavender essential oil, peppermint essential oil, vitamin E oil
Please note: During warmer months, this product may warm in transit and may come a bit softer when delivered to you. There is potential for some oil marks on the packaging due to slight melting. We advise putting your product in the fridge for about 10 minutes upon arrival to help it reach its intended consistency.
Country of Origin: United States
Great chapstick
I use this chapstick regularly and bought a few to give as stocking stuffers. So far they are well loved!