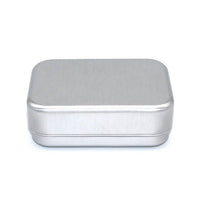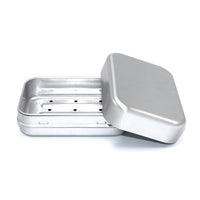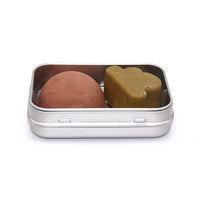 Aluminum Travel Soap Case
Take your zero waste soap on the road! This 2 in 1 aluminum travel soap case is perfect for reducing plastic pollution by taking soap bars with you to the gym or on your next adventure.
3-part Case. Detachable drip tray comes out for use in the shower and allows water to drain away from your bars and air to circulate.

Soap stays dry between uses and lasts longer

Plastic Free Aluminum Soap Case
Lightweight
Approx size: 

4" x 2.75" x 1.425" (outside)
3.625" x 2.375" x 1.25" (inside)
*Soap bar sold separately
Terrific soap dish!
This soap dish is light, keeps my soap dry, and best of all isn't plastic! Service was quick and friendly, the price reasonable, and the product of obvious great quality. I'm keeping this one for myself but thinking it would be a great gift for someone.
Great travel case for soap!
Bought this so I could take my favorite soap with me white traveling. Worked marvelously! Does an excellent job of keeping soap dry and the bar didn't stick to the case at all. Just remember to dry your case out before packing up because it is not watertight.
Travel soap container
Great design, made with aluminum (ie recyclable)
Size of the travel soap case
Size could have been a little longer as soap differs in size. Soap i'm using is a little longer than the case I purchased..